New York City dining rooms beckon in a variety of types, and the luxury of being the maître d' (at one of these) is that I am the point of contact for all the restaurant's guests. I get to meet a lot of interesting people. So far this week, the most notable person I've interacted with is Francisco Costa, the Creative Director of Calvin Klein's women collection.
I'm having a love affair with the current art-history-meets-fashion trend. Kate Spade's Mondrian-inspired dress is the best recent addition to my wardrobe. The dress has a boxy, mod-like silhouette, which I had tailored (the 00 swallowed me), for slightly more shape. It came out beautifully. I wore the dress for service last week and garnered much attention from my guests, staff–even the line cooks complimented the dress.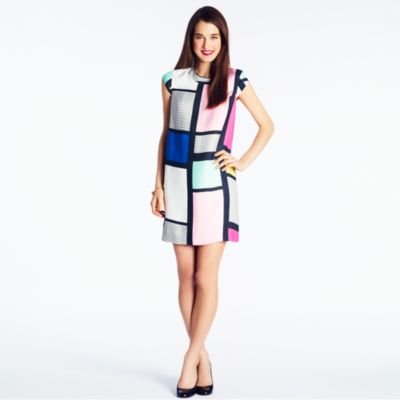 Lisa Perry has a series of pop and contemporary art influenced garments, featuring Jeff Koons dresses and Roy Lichtenstein sheaths, which are a fantasy.
I've been admiring an apropos Calvin Klien color-blocked sheath, the co-creation of Costa and artist Ellsworth Kelly. As Kelly's 90th birthday approaches, museums, galleries and publications have been brought attention to his work. Per an article in this month's Vogue, Ellsworth designed a color-blocked sheath dress in 1952. He provided fabric and explicate instructions to his friend and fellow artist, Anne Weber, who sewed the dress in accordance to the current "Dior" style of the day (the bottom panel was longer than the rest–ruining Kelly's original vision). The original dress is on display at the Philadelphia Museum of Art, now in company of Costa's modern creation, which Kelly tells Vogue, "Now the dress is as I've always wanted it."
There's nothing much remarkable about my interaction with Costa, except that he was polite.
Tomorrow evening is the opening reception of Kelly's solo exhibit at Matthew Mark's Gallery, Ellsworth at Ninety, a show of recent paintings and sculpture. I plan to attend before slipping out to Brooklyn for Greenpoint's first Gallery Night.